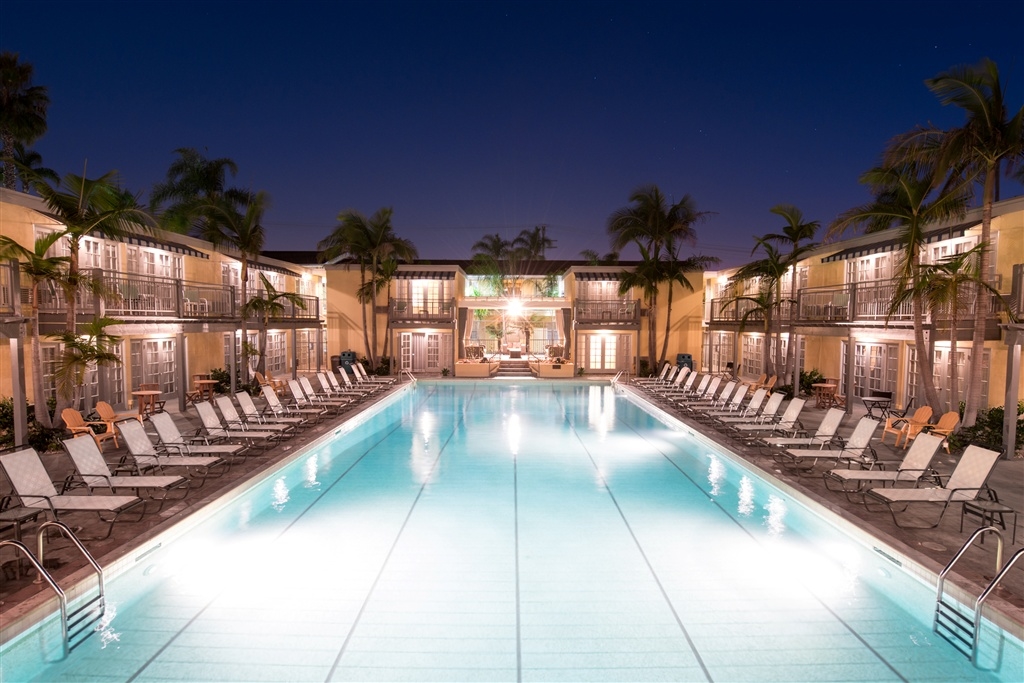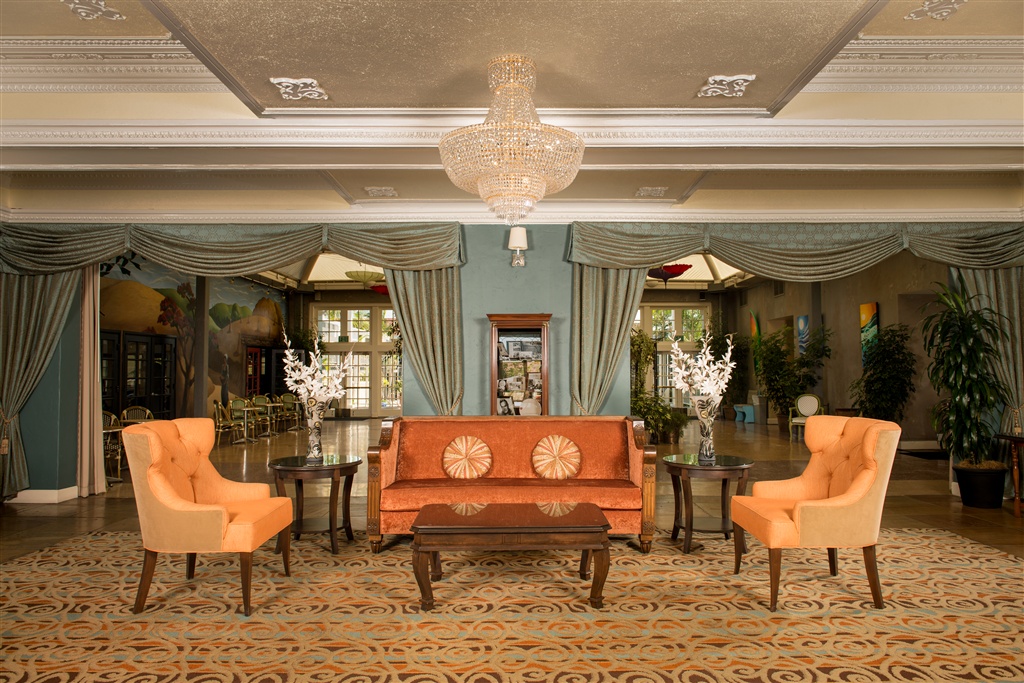 LAFAYETTE HOTEL ENTRANCE
Built in a grand colonial style in 1946 by former car dealer and developer Larry Imig, this historic San Diego hotel opened along California Highway 80 and opened up doors to celebrity clientele. With a little bit of risk and a whole lot of resolve, Imig leveraged his well-honed skills as an entrepreneur, home builder, and flirt to kick start the celebrity cult and turn the San Diego Lafayette into a historic San Diego hotel everyone knows about. Whether he was looking to cause a scene or stay behind them, the Imig Manor quickly became a legacy vacation resort and hideaway to stars like Bob Hope and Ava Gardner.
In the 1940's and 50's, this charming old San Diego hotel inhabited nearly 2.5 acres and boasted 24 shops, 4 restaurants, a nightclub, and 250 guest rooms, suites, and apartments. Sometime during the 1950s, hotelier and San Diego Charger owner Conrad Hilton purchased the San Diego Lafayette and immediately put his stamp on the property. Not only did he demolish and relocate several of the property's apartment buildings and paint the brick façade, but he also removed Imig's large signature from the large terrazzo star in the Conservatory floor.
The 60's ushered in more change as Interstate 8 was completed redirecting automobile traffic from The Boulevard. With it came a sharp decrease in hotel occupancy. Over the next several decades, the San Diego Lafayette saw a shift in both ownership and appearance at the hands of visionaries looking to restore the historic San Diego hotel to its former glory.
In 2004 as part of an urban redevelopment project, Hampstead Partners acquired the property to develop hotel residences on the south portion of the complex. The project was abandoned due in part to the declining real estate market. Seeking to uncover the rich spirit of the historic San Diego hotel while respecting its 65-year individuality and easy nonchalance of the neighborhood's spirit, JCG has resurrected the vibrant soul of the complex and reinstated it as a legacy vacation resort worthy of such a title. In 2011 with the assistance of the San Diego Redevelopment Agency and State of California a much-anticipated 6 million historical renovation was completed.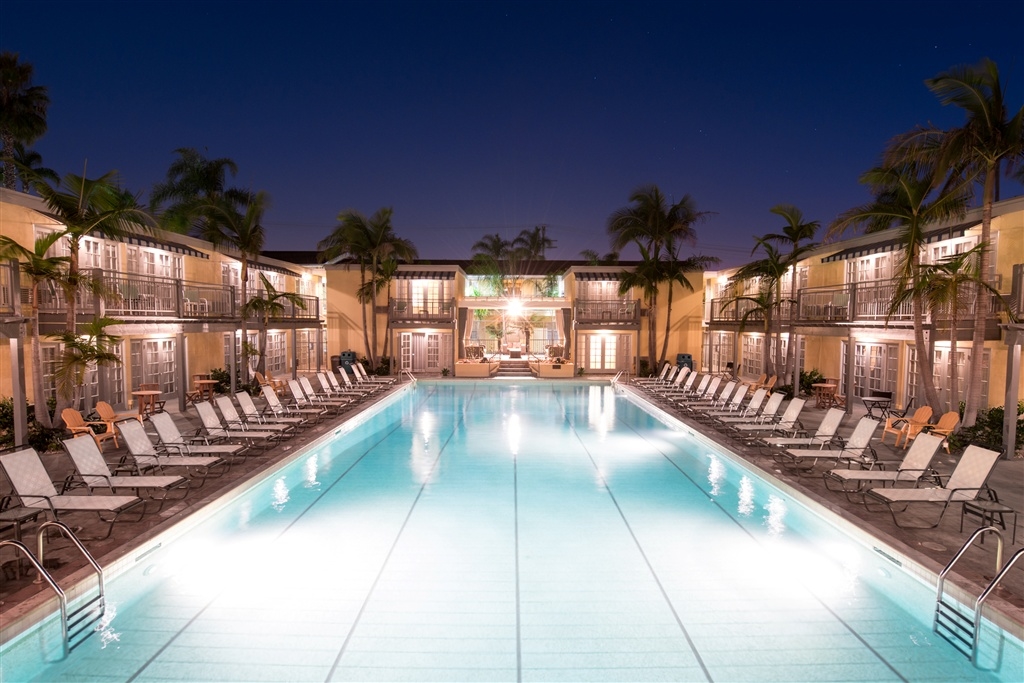 WEISSMULLER POOL
At almost three quarters of a century old, 300,000 gallons, and almost 25 meters long, the Weissmuller Pool is a Southern California attraction in and of itself. The pool is designed by former Tarzan and five-time gold medal winner Johnny Weissmuller in 1946. But the legends don't end there. In the 1940's while training here for her then record breaking swim across the English Channel, San Diego native Florence Chadwick noted the "Olympic pool" is actually two inches shy of the official length. Well, it turns out one of the boards was placed incorrectly as they poured the terrazzo.
Today the pool is continuously voted as one of the best in San Diego, remaining a top draw of the hotel and neighborhood.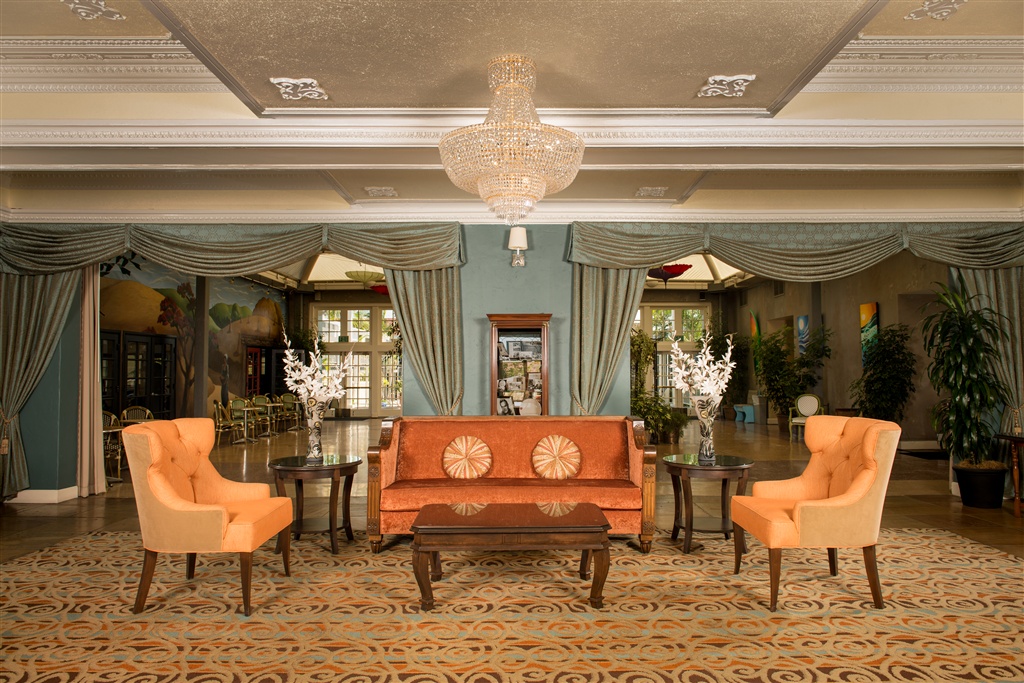 HOPE 46
Located off of the Conservatory of North Park San Diego's Lafayette Hotel, HOPE 46 Classic American Cuisine serves up unpretentious, classic American cuisine in a relaxed setting. The restaurant's design is all about taking you back in time to an era of smooth jazz and glamor, a sentiment driven home by the soft colors, vintage reclaimed wood, antique glass window panes and unique lighting found throughout.
The relaxed and open setting is the perfect space to gather daily for breakfast, brunch (or both, after all you're on vacation) or a mid-day custom cocktail overlooking the historic Weissmuller Pool.
Bungalows
Luxury vacation homes unlike any other, our Bungalows offer a kind of San Diego retreat that other hotels only dream about. With playful personalities and an unhurried vibe, each of our seven spaces is unique from customary vacation rental homes and from each other.

So unique we decided to name each one, the Lafayette Bungalows present an imaginative mix of tongue-and-cheek décor, interesting textures, and thoughtful touches making you feel right at home. From the Chinoiserie to the Premiere, each Bungalow features intricately patterned wallpaper paired with edgy textiles, whimsical drapery and brightly colored walls.
Bungalows
Living Room
These two-story, two or three bedroom luxury vacation rentals have recently undergone a major redesign, revealing captivating character and playing off charm inherited in the 1940's. Reclaimed floors, original moldings, and impeccable craftsmanship are juxtaposed with vibrant colors and modern accessories, striking a perfect balance of retro allure and contemporary style.

Different from anything else out there, the Bungalows at the Lafayette come fully equipped to be your home-away-from-home, giving you all the vacation luxuries without the responsibility. After all, you're supposed to be on vacation. Don't sweat the small things like preparing how you'll keep your drinks cold (hint, not a tub filled with ice) or failed attempts to keep the volume down while your mate is sleeping.
Poolside Rooms
Our large and airy Poolside Suites can accommodate up to four guests with two queen-size beds. Lining the sides of our Olympic Size 25-meter swimming luxury pool, French Doors open up to spacious balconies while ground-floor decks make for a great extension of your hotel room. Outfitted in comfortable furnishings and an inviting color palette, these vibrant guest rooms are where fun and familiarity feel right at home.
 
SUZE FAMILY SUITES
Suze Family Suites allow room for the family and a separate Master Bedroom for the parents. San Diego offers a number of family resorts and attractions, the Suze Suites are perfect for families of all ages.